"Serving the Roswell Community Since 1971"
Young Life Academy is currently serving children of ages 4 to 12 years old in the After School Program. These children are picked up at the following schools:
• Sweet Apple Elementary
• Vickery Mill Elementary
• Hembree Springs Elementary
• Mountain Park Elementary
• Roswell North Elementary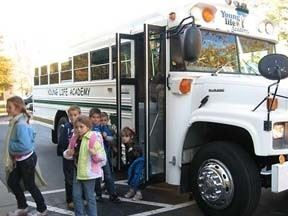 After Schoolers are bused from public schools to our facility on the Young Life buses. All children are required to wear seat-belts when traveling in the Young Life Academy's buses.
Safety is enforced.
Upon arrival to the center, the children will place their belongings in their assigned locker and will be served an afternoon snack. Homework time is allotted for students during snack time for 30 minutes. Outdoor recess is scheduled for 45 minutes (weather permitting) followed by afternoon planned activities including stories, songs and art. Along with planned activities, Young Life Academy offers extra-curricular activities.
During days when public school is not in session (other than Center holidays) special programs will be planned for your children. These activities will include field trips, special programs, crafts, etc., to help make your child's stay here a special one.
/